Making a Life
Why Upstarta? All choices (including inaction) have consequences. We run our businesses and organisations according to a set of Principles that make them
more people friendly – both to clients and self;
resilient to recessions;
better for our environment –  we want to be able to proudly answer, rather than flinch when our kids ask us about this;
and more.
In a nutshell: we don't merely make a living, we make a life.
Our mentors assist people with business strategy, our members also engage in co-mentoring. Sharing is a benefit, not a risk.
While being particularly suited to on-line, ICT and Open Source related endeavours, we are by no means limited to that. In addition, the guidelines also apply well to non-profits and other organisations.
There are plenty of startup groups, the difference is Upstarta doesn't go for "get rich quick" nonsense. Less sexy, for sure… but we reckon the results are better. Or as Thomas Edison said: "Opportunity is missed by most people because it is dressed in overalls and looks like work."
You can also follow us on Twitter (@Upstarta).
Origin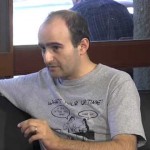 Arjen Lentz has been interested in business models and strategy for many years, and his companies Open Query Pty Ltd and OpenSTEM Pty Ltd are founded on a wide mix of sources and prior experiences, including Harvard Business School. Over time he has shared many insights with others on an ad-hoc basis, also gaining significant benefits from this himself. Exchanging ideas and insights, and asking questions, even with people some might consider to be direct competitors, is more valuable than risky.
At a BarCamp (one-day unconference) in Brisbane in July 2009 he did a short talk on "cheap business practices" which was particularly well attended and received. People were interested in following up on this further in a more organised way, and thus the idea for a group was seeded. A few days later, Elspeth Thorne and Arjen set up the basic infrastructure.
Naming
Our name is derived from an Australian-ism where words ending in -er are pronounced with -a. So, each of us is an upstarter. But in the original form upstarta.com.au you could also read it as upstart-a-business although we've since moved to using .com.au as our primary domain).
Dictionaries describe an upstart as "suddenly raised to a position of consequence" but also "self-important; presumptuous". The latter is of course not a desirable trait, but we note it with tongue-in-cheek as some of our principles are generally seen as odd/quirky and thus presumptuous, i.e. "why don't we just do things like most other businesses?"
Well, we feel that "business as usual" is not the only or even best way of doing things. We're not inventing anything particularly new, our ideas stem from a myriad of well-researched resources and experience, and we apply these ideas in today's economic environment and using available technology. By pooling and documenting our experience, we prevent reinventing the wheel.
Upstarta is a registered trademark of Arjen Lentz.
Site Content License
The original content on this site is licensed under a Creative Commons Attribution-ShareAlike 4.0 International License.
You are free to copy, distribute, transmit, and/or adapt the work, provided you attribute the work noting "Upstarta" with a click-able link where applicable (but not in any way that suggests that Upstarta endorse you or your use of the work).
If you alter, transform, or build upon this site's original content, you may distribute the resulting work only under the same or compatible license.
Upstarta is a registered trademark of Arjen Lentz.